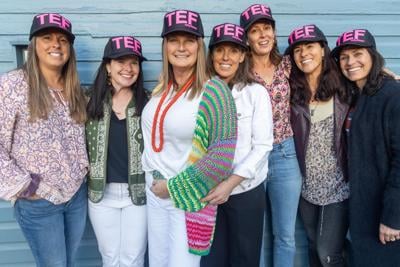 One positive impact that COVID had on Telluride is that it increased funding to Telluride Education Foundation (TEF) for the kindergarten through 12th grade Telluride public school students, teachers and staff, and for TEF's community programming, helping the organization reach a total donation amount of around $1.25 million for the past 30 years.
"TEF is funded by fundraising and events, direct donations from families, grants and corporate sponsors," said outgoing TEF president Toni Nash. And this school year was the largest year the organization has had, accepting more than $100,000 in donations and passing $80,000 to the school and community for a variety of programs, she said.
"The mission of the nonprofit, all-volunteer organization is to raise money for and to invest in the enrichment of K-12 education in the Telluride public school district," Nash said, who has been on the board since 2017.
Treasurer and incoming co-president Lisa Vila Fischetti, who will be joined by Marianne Minnehan in the president's role, has been in the vice president role for the last four years.
"We've had a stellar four years," Nash said. "I feel really confident in Lisa and Marianne moving forward and we have such a strong foundation from which to continue this work."
Nash will step back, but not away. She'll stay on the board and continue to curate the film and speaker series, one of three programs that the organization puts money into.
TEF's three main programs focus on staff and teachers, students and the community. This third, the community category, is where funding for the film and speaker series originates.
Through the first two programs, TEF funds impact the school directly, meeting essential needs for 850 students and 150 teachers and staff, Vila Fischetti said.
Over the course of this past school year, TEF gave $30,000 to fund student programs alone, Vila Fischetti said.
A large portion of those funds went to the experiential grants, for educational events like the eighth-grade avalanche safety field trip, the third-grade rock climbing event, frog dissection, a high school poetry event, and the eighth-grade end-of-year rafting trip, to name a few. Some funding went to the "Spreading Joy" program that TEF started in January 2022.
"We had gotten feedback in classrooms that there was a disconnect between students and teachers after COVID, and that some of the fun was missing from learning," Vila Fischetti said. "So, we gave $200 to every teacher in the entire district to do something fun with their students."
That led to tie-dying t-shirts, curling at Hanley Rink and fun events in the classroom like a lunch party where first graders were treated with sushi while also learning how to set tables and use manners, Vila Fischetti said.
The organization granted $46,000 directly to teachers and staff this year. One of the many ways this bucket of money was used was through magnet grants, a program that helps teachers and paraprofessionals obtain funding to stay in the district.
"That might be for continuing education, child care, commuting expenses, buying a first home or additional training," Vila Fischetti said.
TEF was able to increase the funding for the magnet grants by 20% this year and the cost-of-living portion of the magnet grants by 50% because of the increase in donations to the organization.
In the coming school year, TEF's theme will be "Celebrate Awe and Wonder," and the programming will be "all about celebrating good news and inspiring awe and wonder as we look at the world around us and celebrate the beauty," Nash said.
Anyone interested may donate or get involved by visiting TEF's website, https://tellurideeducation.org.